EXPERIENCE AND INNOVATION IN A SINGLE TOUCH.
Be perfectly Secure with us.
Mandatory access control.
This is a security model in which access rights are regulated by a central authority based on multiple levels of security which are often used in government and military environments
Discretionary access control.
This is an access control method in which owners or administrators of the protected system, data or resource set the policies defining who or what is authorized to access the resource.
Role-based access control.
This is a security model in which the system administrator defines the rules that govern access to resource objects. These rules are often based on conditions, such as time of day or location.
Attribute-based access control.
This is a methodology that manages access rights by evaluating a set of rules, policies and relationships using the attributes of users, systems and environmental conditions.
WHY ACCESS CONTROL?
The goal of access control is to minimize the security risk of unauthorized access to physical and logical systems. Access control is a fundamental component of security compliance programs that ensures security technology and access control policies are in place to protect confidential information, such as customer data. Most organizations have infrastructure and procedures that limit access to networks, computer systems, applications, files and sensitive data, such as personally identifiable information and intellectual property.
At Erideka Kenya, we know how secure biometric systems are and can give you the best access control systems in Kenya. Due to the delicacy and complexity of such systems, we assure to install the systems that work, so that you don't have to keep calling us due to system malfunctions. Note that malfunctions in such complex systems may lead to a lot of unwarranted delays and inconveniences.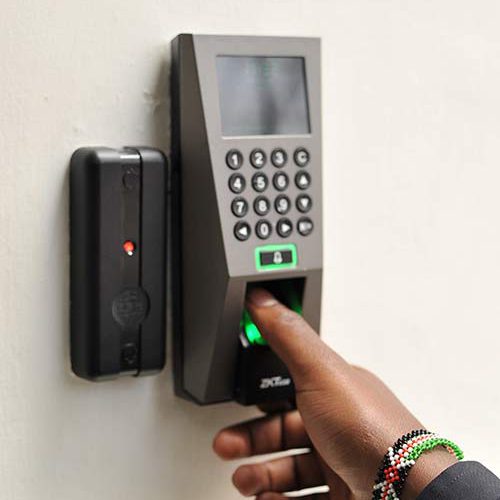 Biometric Time Attendance.
WITH OUR EXPERIENCE IN BIOMETRIC IDENTIFICATION AND VERIFICATION TECHNOLOGY:
Erideka Kenya supplies and installs School attendance management Systems that send SMS and Email notifications to designated contacts such as parents or guardians when students get to school and clock in or leave school and clock out.
Erideka Kenya implements Dining hall Management Systems / Meal management systems where only staff and students who have made payments or are authorized by the institution can have their meals as the system denies access to unauthorized users.
Erideka Kenya also has installed and commissioned Transport management systems for use by learning institutions, the hospitality industry, flower farms, and other companies to monitor the use of school and staff buses
Erideka Kenya stocks Mobile biometric devices as well for management of workers at construction sites, Large Fresh Farm produce companies, Flower farms, and sales teams in the field. These systems can be used in areas with minimal access to electricity as they have inbuilt batteries and can also be recharged using Solar or generator power.
CONNECT LIKE A PRO WITH INTERCOM SYSTEMS FROM ERIDEKA KENYA.
INTERCOM SYSTEMS
An intercom system is a two-way communication electronic device that contains circuitry to transmit and receive audio and/or video transmissions.
With the advent of cellular communication, digital telephone systems, and other communication devices, the use of intercoms has declined. However, there are still lots of applications where these devices still work better than anything else. There are a very wide variety of systems available as defined below:
Wireless Intercoms: In applications where wires cannot be run, a wireless system is used. There is a broad spectrum of two-way wireless communication devices that include such devices as handheld radios, outdoor wireless callboxes, as well as traditional desktop devices. The range these units will transmit varies widely based on the wireless technology used.
Wired Intercom Systems: When you can run wires between locations, a wired system can give you a little more privacy and eliminate possible interference from neighbouring systems. There are different wire types such as 2-wire shielded or Cat-5/6 that can be used with these systems. If you are considering a video system, a wired unit may be the best solution.
Video Intercom: These typically have a unit that has a camera, speaker, and a push button that goes at an entrance door, and an internal monitor unit that can communicate with the entrance unit. Some systems can have multiple video monitors internally. Given the difficulty of sending video over the airwaves at a very much distance without interference, most available units are wired.
Apartment Intercoms: This type of system has a door unit at an entrance door and then each apartment or flat has either one or multiple units that can speak to the door and possibly see the visitor or the door unit rings a landline or cellular telephone number. A visitor simply presses the correct button for the apartment they want to speak to, and the tenant can speak back and then press a button to unlock the door.
Two-Way Radios: While these are technically not intercoms, there are two-way radios that communicate with base station intercoms. So you can have the flexibility of a mobile radio that communicates over long distances mixed with the capability a fixed intercom gives you.
INTRUDER AND BURGLAR ALARM SYSTEM.
SECURING PEACE OF MIND.
A Burglar Alarms system is an essential piece of business infrastructure. Whether a small business or a large enterprise, Erideka Kenya can create a custom business security system that is appropriate for your needs. Installing alarm systems is designed to help detect intrusion at all levels, and protect your facility and the people who work at or visit your company. Your security system will be custom designed to adhere to your business schedule and operations. Enhancing the security of your building will allow you to protect your outside entrances as well as areas inside your facility.
We offer a variety of state-of-the-art Fire Alarm systems with microprocessor-based panels. The panel is connected to intelligent addressable fire detection devices. We offer state-of-the-art systems that provide improved performance and require low maintenance and testing. We replace outdated systems or interface with your existing system that can be used for phased upgrades.
Our fire systems allow personnel to identify the exact location and status of each device. This is done using an integrated system from a control room or central panel. These fire alarm systems can be networked to cover large plant areas. It can also be interconnected with many other types of fire detection and suppression systems including voice evacuation.
As services to our clients, we offer project management which includes code-compliant engineered drawings, turnkey installation, and electrical and mechanical work. We also do programming, and training for your key employees and give warranty and maintenance.